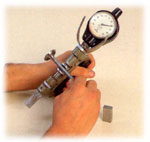 The motto that Sanmati Exports have accepted, "Don't stop yourself, don't stop others" has given us energy, mobility, strength and a new meaning of catalyst to start us on our way to the 21st century.

It is this motto that has won us the understanding that by always striving for better quality, more quantity & the newest technology, we are able to give our customers, the best quality and the desired quantities.

We are compelled to think "if our company lives, we live". This thinking forces us to always keep quality in the forefront. For us quality doesn't only mean the people at our Quality Control Department but, with each and everyone of us.

Also, for us to spend two back to back days in the same manner is to our disadvantage. In length of this, all of our employees are obliged to be in a constant research and development state of mind. We should not forget that our customers are our benefactors. Our customers needs should always be in our thoughts, no matter what, even after the sale is made.

In conclusion, quality and price will come on it's own merits if we make great efforts and this thinking will keep our company strong and therefore, it will keep us strong.

Product Wise Quality Control

Valve Guides
Valve Guides are grounded to a surface finish of 0.80 Micro Ra on its Outer Dia and with in a tolerance of 13 Microns.

The Valve Guide manufactured by us has microstructure of Pearlitic matrix with 5% maximum free ferrite 5% maximum free carbides an d10% maximum steadite in cellular or discontinuous form and Valve Guide has Hardness of 210-260 B.H.N. RANGE OF VALVE GUIDES.

Valve Guides are also provided with Thread and Spiral in its Inner Dia to retain oil for long time. Thus increases the life of both Valve Guide and the Valve.

Engine Valves
A Fully fault free inspection procedure is adopted for the Inspection of Engine Valve.

Each Valve Forging is checked through Crack Detection machine to ensure that not a single minor crack prevails during the forging process.

The Heat Treatment provided to the Engine Valves is done through the Finest Heat Treatment plants Facilities were Uniform Hardness is being provided to each single Engine valves.

Then the Engine Valves Forging is inspected by Straightening Machine to avoid any Bend in the Stem of Valves, which causes the Run out while Machining and Grinding.

While CNC Machining all the engine Valves are checked upto their specified tolerance Chart and strictly machined as per the Specified Dimensions and Tolerance.

Tappets
Sanmati Exports Tappets are specially Manu. as per OE Specified Tolerance

Max Ovality on OD - 0.010
Surface Finish - 0.8 RA
Perpendicularity to Head to Stem OD - 0.010
Mangnese Phosphating - 10 to15 Microns uniform coating
Chilled Face Hardness - 45-50 RC Normal
60 RC after Heat Treatment
Chilled Face Convexity - 0.002 to 0.080
Chilled Face Finish - 0.1 RA

Valve Seats
The Inspection and Quality maintenance program of Valve Seat Inserts

O.D. Roundness
The roundness of the outside diameter should be held to 0.013mm maximum

O. D. to Bottom Face Perpendicularity
This specification should be held to 0.002mm per mm of width.

Seat Surface Gauge Height
The gauge height tolerance for the seat surface is typically ±0.04mm.

Seat Surface Finish
A finish specification of 0.8 Ra is typical of many manufacturers.

Seat Surface Run-out to Bottom Face and O D
Run-out of the seat to bottom face/O D is maintained to 0.04mm maximum.

Seat Surface Angle
The tolerance for seat surface angle is typically ± 0.25º.

Line Profile for Seat Surface
Some manufacturers have a line profile (or roundness) specification for the seat surface. This specification is the most critical in ensuring a good seal between the valve and VSI. A typical specification for this feature is 0.02mm.